What do I need as a foreign entrepreneur starting out in Singapore
As there are various compelling reasons for starting business in Singapore, foreigners wanting to become Singapore entrepreneurs often have doubts and questions in regards to the things they need for starting business in Singapore and becoming an entrepreneur.
Fortunately, Singapore being highly conducive to business and entrepreneurship for foreigners does not actually require a huge list of things. Just a few basics and you're all set.
Here are 3 things you need for becoming entrepreneur in Singapore and starting Singapore business.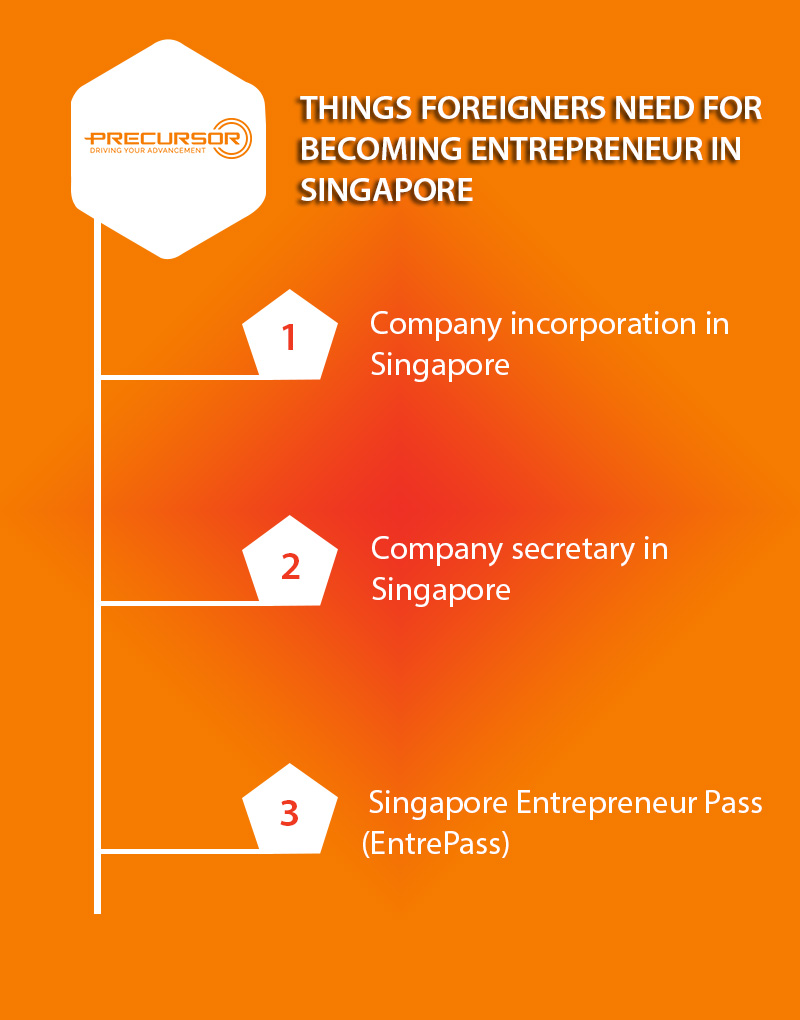 1. Company incorporation in Singapore
Once you are convinced that you are starting business in Singapore, the next step has to be Company incorporation in Singapore. As per law, before you begin business operation in Singapore, incorporating company in Singapore is the first requirement, even if you're simply conducting market research.
There are different types of companies you can register in Singapore depending on your specific needs/requirements. Consult a qualified company incorporation expert today and get the process of Singapore company incorporation begun.


2. Company secretary in Singapore
Singapore Companies Act recognizes the dependence of company directors on the company secretary for guidance on statutory compliance issues. As being a foreigner entrepreneur you may not always be physically available in Singapore for tax filing, documentation and time-to-tine compliance, Singapore company secretary can act as a custodian of the company in your behalf, making sure that all the laws are complied.
The Accounting and Corporate Regulatory Authority (ACRA), which is the national regulator of business entities and public accountants, mandates that every company must appoint a company secretary in Singapore within six months from the date of its incorporation. Therefore, once you have incorporated the company, the next thing you need to do as an entrepreneur is to appoint a qualified company secretary.
Knowing that Singapore company secretary has so many important roles to play, its vital that you choose only a qualified person/firm that can efficiently perform the secretarial duties.


3. Singapore Entrepreneur Pass (EntrePass)
If you want to relocate to Singapore on temporary or permanent basis for setting up and growing up the business, you need one or the other kind of work visa. Easiest and most suitable for entrepreneurs is Singapore Entrepreneur Visa (EntrePass)
The EntrePass scheme is designed for foreign entrepreneurs who wish to start a business and relocate to Singapore.
Once the pass is approved, you will generally be given 30 days to incorporate the proposed company and inject the necessary share capital.
As a foreigner wanting to be an entrepreneur, having entre pass is in all cases advisable. However, due to the stringent criteria of Singapore entre pass, foreigners may find it hard to obtain it. Alternatively, many foreign entrepreneurs would choose to apply for Singapore Employment Pass instead. The Singapore Employment pass will be discussed more in details in another article.  

Have any questions in regards to Singapore company incorporation, company secretary in Singapore or Singapore entre pass?
Feel free to get in touch and we'll be happy to assist.