A foreign individual or entity wanting to incorporate company in Singapore has several options, as listed here.
In this post we're discussing all the options that are available for foreigners wanting to incorporate company in Singapore, which one to choose coudl be based on their long-term business goals, type of industry, company size and other factors . You will be able to determine what option works best in your situation and how can you go about registering company in Singapore ensuring that you comply with all the national and international laws.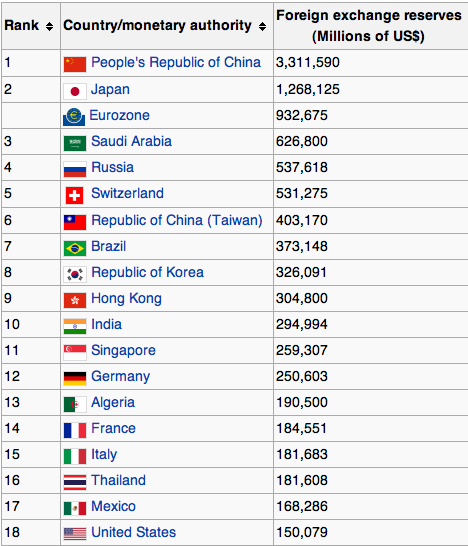 Top countries for foreign exchange reserves
Option 1: Subsidiary company registration in Singapore
Subsidiary company in Singapore is an incorporated private limited company whose majority shareholder is another local or foreign company.
Since Singapore allows 100% foreign ownership in companies, a foreign company may incorporate a limited liability company in Singapore (i.e. subsidiary company) in which 100% of the shareholding can be owned by the respective foreign company.
This is by far the most popular option that is preferred by foreign companies wanting to register company in Singapore.
Here are some important facts about Singapore subsidiary companies:
A properly structured local subsidiary company enjoys all the tax benefits that a private limited company enjoys, which means that such a company can take advantage of Singapore's low tax rates as well as exemptions that are provided under various schemes. 
A Singapore subsidiary company is considered a separate entity from the foreign company even if the foreign company is the only shareholder. This is very useful because the liabilities of the subsidiary company are not extended to the parent company.
The name for the subsidiary can be different from that of the parent company and is subjected to approval by the Registrar of Companies.
The Singapore Companies Act requires that when registering company in Singapore, at least one director must be a Singapore resident (citizen, permanent resident, or employment pass holder) person.
A Singapore subsidiary must maintain a registered office in Singapore and keep its statutory documents in that office.
A Singapore subsidiary is the most preferred registration option for small to mid-size foreign businesses that are interested in establishing their presence in Singapore.
And from its base of operation in Singapore, the foreign businesses can then attempt to establish business operations in other countries.

Setup requirement for subsidiary company registration in Singapore


Option 2: Branch office
A Singapore branch office is a registered legal entity like a subsidiary company is. However, unlike a subsidiary, a branch office is treated as an extension of the foreign company. 
Different from Singapore subsidiary company in which liabilities are not extended to the parent company, the foreign company's head office bears the ultimate responsibility for any liabilities arising due to the acts of commission or omission of the Singapore Branch Office. 
Unlike Subsidiary, a branch office in Singapore is considered a non-resident entity and therefore is not eligible for the tax exemptions and incentives available to local companies in Singapore. 
The name of the Singapore branch office must be the same as that of the head office and must be approved first before branch office registration. The company registrar generally approves the proposed name unless its identical to an existing Singapore company name.
The Singapore Companies Act requires that a branch office appoints at least one authorized representative who is ordinarily a resident in Singapore to accept services of process and notices. A branch office must have a registered office address in Singapore.
Due to these factors, branch office is usually a less-preferred and less-attractive option by small and medium size foreign companies looking to incorporate company in Singapore. It's, however, an option exercised by larger companies that care about their brand building and wish to have branches set up in order to expand the business. A Singapore branch office is allowed to conduct any type of business activity that falls within the scope of its parent company and can repatriate its earnings and capital. The portion of the income of the branch office, which is derived from or attributable to the operations carried out outside Singapore, will not be subject to taxes. Only the earnings derived from its operations in Singapore will be subject to the prevailing local corporate tax rates.
Option 3: Representative Office
For a start, many foreign companies at times are only interested in exploring the market or managing the company affairs without conducting any business activity of profit, allowing them to understand the market first.
Such a company, as per Singapore laws can set up business in Singapore under a representative office. Since representative office is a temporary setup without any legal persona, it cannot enter into any contract, engage in trading directly or on behalf of the foreign company, lease warehouse, raise invoices, an open letter of credit, etc. Representative office in Singapore can only undertake market research or feasibility studies on behalf of its parent company.
The foreign company bears implicit liability for the activities of the representative office in Singapore. The representative office must be staffed by a representative from the foreign company's head office and can engage a small number of local support staff not exceeding five employees. 
International Enterprise Singapore (IE Singapore) is the registration authority for representative offices for most of the industries including manufacturing, business services, commerce and other sectors but excluding banking, finance, insurance that have to be registered with the Monetary Authority of Singapore (MAS).
This is usually best for the companies that are looking to do some kind of market research/study in Singapore.

Representative office requirement


Which Option to Choose?
The answer to which option to choose depends on various factors, mainly the goals, purposes and company sizes. 
If you are only looking to do market research in Singapore and aren't looking for a lengthy procedure of registration, tax and audit, A representative office is a short term arrangement that is advisable.
In general, a representative office cannot continue its operations beyond three years and must upgrade itself to a branch office or subsidiary before or at the end of the three-year period.
A branch office affects unlimited liabilities for the parent foreign company. The branch office is required to submit its own audited accounts as well as that of its head office, which many foreign companies may not be comfortable with. The branch office wields a lesser commitment and is deemed to lack any long term vision. Thus securing investment and incentives will be relatively difficult. Tax considerations play a major role in deciding the form of business that is appropriate. A branch office, although registered with company registrar, is still treated as a foreign entity because the control and management are exercised outside Singapore. 
Therefore a foreign company's Singapore branch will be deemed a non-resident company for tax purposes. As a non-resident entity, some of the tax exemptions available to resident companies such as subsidiary company will not be available to a branch office.
A subsidiary company is rendered a separate identity and is treated as a local Singapore company. It brings several benefits, the foremost being the limitation of liability of the foreign company in Singapore. The foreign company and its assets cannot be held for the debts and liabilities of the subsidiary. Raising funds locally or availing government incentives are easier. A subsidiary company will generally enjoy a resident status and can avail the benefits of several favourable tax treaties that Singapore has concluded.
Most foreign companies and individuals, therefore, choose either of subsidiary or acquiring partnership in a local Singapore company. It's however very subjective and it's best that you choose it carefully and wisely to keep yourself protected, profitable and complying with local laws. 
Even if you're sure what type of company you want to incorporate in Singapore, the best advice is to still discuss this in detail with a Singapore company incorporation services provider. 
At Precursor, we are committed to provide authentic, appropriate and professional advice about company incorporation in Singapore. If you would like more details or have any queries about Incorporation procedure, time and cost, please get in touch.