Cheng Guan LOO
Chairman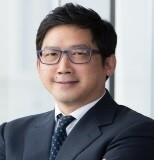 Mr. Loo Cheng Guan is Chairman of the 1Rockstead GIP Fund II Pte Ltd and has more than a decade of experience in the private equity and fund management industry. Mr. Loo is one of the early participants in the GIP scheme, having held the position of Managing Director at two GIP Funds (F&H Fund Management and Tembusu Partners) managing more than S$300million in assets under management. At both funds, Mr. Loo's responsibilities included fundraising, investments, post-investment monitoring, operations and compliance related work. He also sat on the Investment Committee at both funds. Mr. Loo has a wealth of investment experience and networks across various industries in Singapore and China, ranging from retail, F&B, healthcare, media and entertainment, resources and clean energy. He was also the founding Chairman of Tembusu Partners' joint venture investment company with a Nanjing based venture capital firm.
Mr. Loo. founded Blue Ocean Capital Partners in 2005 to provide consultancy services in the areas of strategy, corporate finance and M&As. Mr. Loo subsequently joined Tembusu Partners following the merger of Blue Ocean Capital Partners into Tembusu Partners in 2008.
Prior to founding Blue Ocean Capital Partners, Mr. Loo was formerly a Principal at Advent International Corporation, one of the world's leading private equity houses with over US$6 billion in capital. Advent's focus was mainly of leverage buyouts, MBOs and late state investments across Asia. Some of the noteworthy deals during his tenure with Advent include co-leading a consortium to invest US$25 million to purchase a 49% ownership interest in MBf Cards Sdn Bhd, the only non-bank and leading MasterCard issuer and merchant acquirer in Malaysia (exited by way of putting to 51% shareholder yielding 1.8X return); monitoring Westco Jeans Pty Ltd, an Australian mall-based fashion retailer with over 140 stores which Advent acquired in 1999 via a complex A$75 million MBO deal; and financially structuring an exit in 2001 for Advent's failing investment in Westco through a combination of recapitalization and share swap into RSH Ltd., a SGX-listed retailer. Mr. Loo also represented Advent on the Boards of both MBf Cards Sdn Bhd and Westco Jeans Pty Ltd.
Prior to private equity, Mr. Loo was Head of corporate advisory and M&A at Mitsubishi Securities (Singapore) and Deputy Managing Director at Nomura Securities in Malaysia.
Mr. Loo holds an MBA and a degree (Honors) in Economics from Monash University in Australia.